I found an interesting sticker of a Devil Girl or as I see her, a Succubus this week on the web and so, here she is…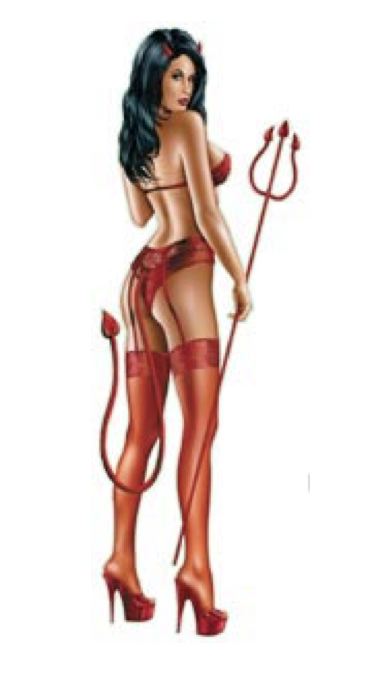 The sticker called Devil Babe and is by Lethal Threat. You can find them here at their website and you can find this sticker on sale on their associated site here as well.
I like this drawing a lot really. The succubus herself is lovely, sexy and seductive, all of which are things that all succubi should be.
Her outfit I think works really well with her body shape, her hair is lovely and while her horns might be a little bit on the small side, her tail is interesting to me…
It seems like it's a little thin perhaps, but otherwise it's a lovely tail and is, mostly, like the one I have on my Succubi avatar that you see from time to time…
I also would like to say how much I approve of the pitchfork she is holding. It's not too heavy or over the top like  a lot of the usual ones you see with Succubi or Devil Girls here and there. I'd almost want to call it sexy in its own right I think if such a thing was possible.
I like the shoes as well she is wearing, even if they are, perhaps, a bit on the steep side of things for my personal preference, they do shape her legs really nicely and that's a very good thing for a Succubus to have…
Lovely work, please do visit their site and see some of their other Succubi, and not so much so art that they have created!
Tera