I like costumes that allow some skin to appear. Now that's because I don't like to overheat in them and as well, I like being able to accessorize them in different ways. Sometimes that means long gloves, or stockings or other things that make the costume look more Succubus-like…
In this case, anything you might do is smothered by the shag carpet that they cut the costume out of…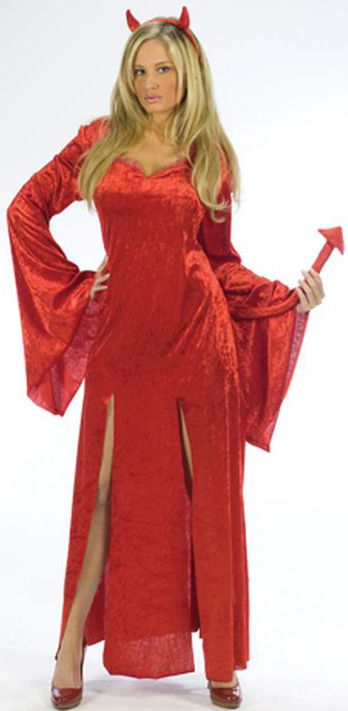 This is described as being a Sultry Devil Costume and comes with the red front slit gown with attached tail and the devil horns headpiece.
It sells for $25 US.
And I really do think that it is made from a piece of shag carpeting.
It looks to be so very heavy and uncomfortable to me, the tail as well looks lousy too, the horns are nothing special and the band they are on is so oversize to be laughable really…
The long sleeves cover any sort of gloves save little ones up completely, and the length of it, to go right down to your ankles, even with the front slits really doesn't help this in the slightest.
I suppose the one saving grace for this is that if it was a really cold Halloween night you wouldn't freeze in it going to the party, but after you get there I would hope you have another costume to wear because really this thing is going to be so hot hat you'd want to stripe out of it…
Maybe that's the point I'm missing?
Regardless of that point, I don't think a lot of this, and I wouldn't really want to own it either.
I'm giving it one pitchfork out of five.
It gets that because I don't like the cold.
Mind you my tail cozies are so very much better than this for keeping me warm I think…
Tera