I found another speedpainting by the artist known as Mdavis2k8 on DeviantArt of the Succubus Morrigan Aensland on YouTube, and so this week, I am going to showcase their work once more…
This time, it's a poster of Morrigan, one of the most famous Succubi there are…
And in case the embedding fails:
http://www.youtube.com/watch?v=gt7RfWpvKoA
And as well an image of the completed work: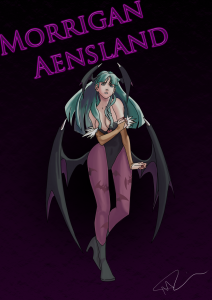 While I found this work originally on YouTube, the artist, calling themselves Mdavis2k8, has a page on DeviantArt which you can find here, and as well this work on this page too.
If you visit their site, you can download a huge file of this artwork and there is a lot of nice detail work in it when you see it in that size…
I find it sort of amusing that her hair is draped over her breasts in such a way as to make anything that might be a bit on the adult side of things not visible. That's not a complaint, just something I found interesting to me at least…
As in this artist's other work, seen last week on the Tale, I like the shading and colouring of her skin and her body stocking, but her wings I think are the most lovely things in how well they are given a nice texture and really to me, seem very three dimensional-like…
Do visit this artist's site on DeviantArt and have a look at his art!
Tera