I think that some costume designers are mixing up their myths again. As far as I can see, just because Sorceress and Succubus start with the same letter does not make them equal to, nor connected with each other.
Case in point is this costume that I came across this week…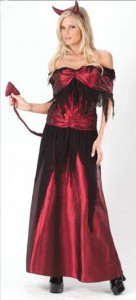 This is described as being a Sexy Devil Sorceress Costume. Take that for what that's worth really…
It comes with the red and black dress, a waist cinch, the tail the model is holding in her hand, and a horn headpiece. The set does not include the shoes they show as always, and this sells for about $27 US.
I just don't like this at all. The horns are not that wonderful, the tail is very flimsy and ugly looking really… I'm sure that one wrong move and that is gone.
I'm also not happy with the overall look of the costume. It seems like they took a costume for a gypsy and  tossed horns into the package and sewed a tail on it.
In other words where is the Succubus or Sorceress in this anyway?
I would expect, or at least hope, that some effort would be put into the idea, well honestly, either idea. But mixing the two concepts in one costume?
For that matter, if she is partially a Sorceress, then how is that present in this costume anyway? I can't see anything that would seem to fit that idea…
I can't find anything to like in this to be honest. The idea is wrong, the look is wrong, the tail is wrong…
I don't think I need to rant further on it really do I?
This gets a half pitchfork out of five.
Why the half?
Honestly I'm not sure. Perhaps I just don't want to be too cruel?
Tera