It's time once again to consider an accessory for all of you that are thinking, or will think, about dressing up as a Succubus this Halloween. While you might have found the right costume, horns, tail and so on, you might be tempted by another item to add to what you have…
Or not.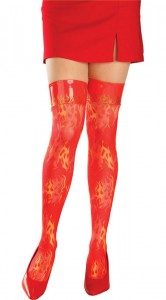 Now it's probably a little hard to see, but these thigh-high stockings have a flame patten on them.
They do! Honestly! Well, okay the image might not do them justice and so they are a bit less then they should be, but they are there…
Simply described as being Flame Thigh Highs by the manufacturer, this item sells at various sites for $6 US.
The pattern itself is sort of a gold print added to the opaque red stocking material. The tops of the stockings are a bit too shiny for my liking when compared with the rest of it, most likely it's the plastic used to keep the stocking up and in place.
I just think that this is a bit too tacky to be honest. The flame print I am almost completely sure will not last on them, one wash will remove it I would expect.
I'm also disappointed that the flames don't stand out more against the red. While gold is nice, I wonder if black would have been a better choice, or, and this is probably not workable, cut the flames out of the stocking material, and have your own skin be the colour for them…
That would, I think, make them stand out a lot better than this really…
Still, on a cold night at Halloween, this wouldn't be a bad idea to stay warm if you are wearing one of those… skimpier… outfits…
Something to ponder I think at least…
Tera