I've said it many times that a Succubus costume is more than the material it is made of. It's also more than the accessories as well. What it should be is a reflection of the Succubus within and without. Something to add to the whole and not take away from it.
This isn't one of those.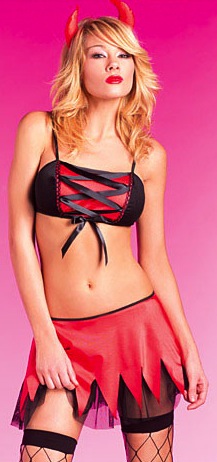 I have heard of and seen minimalistic costumes. Some of them are very minimal and claim to be Succubus like. One of the worst ones I have hear of is wearing pale makeup and lingerie…
This isn't quite that awful, but it is getting quite close to that.
This costume is called the Sexy Devil Woman costume and comes with a pair of devil horns, a pair of fishnet net stockings, the red and black dual layered mini skirt and the red and black bra top with ribbon lace up front detail, all in stretchable material.
And it sells for around $35 US on the web.
I hate just about everything this costume has. The fishnets do nothing for me, the skirt is lousy, the top is just as bad. There is no tail either which makes it worse still for me…
The horns look like they are made of Nerf, which is not what they should be.
It just looks far too cheap for my liking and that is, of course, one of my main rants over costumes that appear to be a Succubus or Devil Girl or Devil Woman.
None of these should make you look cheap or trashy, and this one, regrettably, most certainly does that.
I won't give this a zero. As much as I would like to, I can sort of find myself liking the horns alone and trashing the rest almost immediately when it arrived.
A half pitchfork out of five.
That's being generous I know…
Tera