There is a SuccuWiki entry for story about an incubus that I added some time ago. I noted that I would be adding a review there in the future, but first I am going to place that review here on the Tale.
The work I am going to review is called Demon's Layer and is by the author Carlanime Bligh.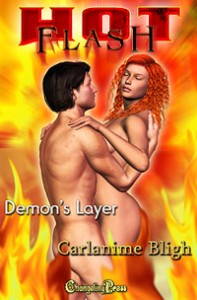 Title: Demon's Layer
Author: Carlanime Bligh
Publishing Date: 2010
Length: 23 Pages
This story is part of a series of works by this author under the Changeling Press series title name of Hot Flash which allows shorter stories that can't quite be called novels in length a chance to be published.
This particular story, Demon's Layer, is part of a universe that this author has created that is a series of three short stories: Enter the Layer, Wolf's Layer and Demon's Layer.
Demon's Layer tells the continuing story of Nisha Kenkins, who is what is called a Layer in the series. In short she deals with supernatural beings on the behalf of normal humans. This time she is called to help the owners of a hotel called The Innferno. The problem that the owners face is that they are haunted by a being, possibly some kind of demon, that is creating problems for them.
Over the course of the story, Nisha meets this demon, who has similar powers to an Incubus in that he is a sexual demon and apparently uses his powers to make the sexual fantasies of others come true. But unlike the traditional method of an Incubus, this demon possesses others, normally male, and then uses its powers to control the actions of others around them.
Nisha and her two lovers, both men, find themselves falling into the demon's sphere of power, possessions take place, and over the course of the story, the three of them are brought into situations that are both the fantasy of them all, and the fantasy of one of them in particular. Nisa confronts the demon towards the end of the story in its true form and with a bit of trickery on the demon's part, finds herself quite literally at the demon's tender mercies…
While it is not necessary to read the other stories in this universe, I would recommend it because I found myself questioning some of the relationships and actions of the main characters when I read the story as a "stand alone" story. Going back to this tale after reading the other two stories helped me quite a lot in understanding why Nisha is a Layer and what that really means.
I thought that the scenes between Nisha and her lovers were very hot and expressed a lot of the love between them all, but there just wasn't enough background on them for my liking. I understand that this is a series of works, but a little more expansion on their lives would have been nice rather than being dropped into their world without a lot of understanding.
As seems to be my biggest problem with these short flashes of stories, the story seems rushed and we move from sex scene to sex scene without a lot of growth character-wise between them. Again, I think that the format use causing that problem and that to me is a shame.
Eventually, I am expecting all of these stories to be gathered in one larger volume, which I think will solve a lot of the problems I have expressed here…
Setting aside the need for more expansion in the story, otherwise I liked the rest of the work very much. The author writes very well and there were no moments in the story telling that drew me out of the work which I did enjoy…
I'm giving this work three and a half pitchforks out of five…
It should be longer, and perhaps the resolution should have been shown as I think that would have been an interesting end to the story. Can't spoil it for you, but really, considering what the demon could do, it would have been a very interesting ending…
Tera