There is a game called Minecraft, you can find out more about it here on Wikipedia if you are interested in it, but in short, you enter a world where you collect blocks and build things.
Some people have built very complex things in the game. like buildings or the Starship Enterprise…
And someone decided that they should make a Succubus Mod for it as well…
And in case you can't see the embedded video:
http://www.youtube.com/watch?v=thOvsWp_MGQ
I'll warn you that the person narrating the video mispronounces Succubus… A lot.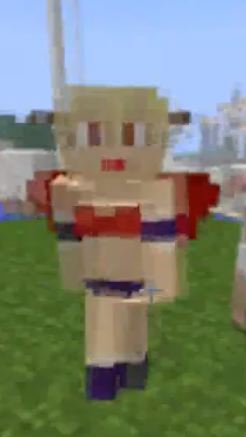 Obviously, she is a Succubus, she reminds me a lot of the Ragnarok Succubus in the clothing she is wearing, this image is about the best one I could screengrab from the video…
Now I don't think I will add her to the SuccuWiki, mostly because she isn't in the original game, she is only a Mod for it, and really as a Succubus she isn't exactly what one would expect from one…
Honestly, I think this was mainly a "just because I can" sort of thing, but if there are any players of the game that can point me at any sort of stats or more information on her, I'll think about adding her to the SuccuWiki…
There just is not enough to justify it, not to mention that there isn't a really good image of her around either…
Now I understand that in one of the different versions of Minecraft that there are enemies that attack you and so having a Succubus in the game kind of makes some sense I suppose…
But personally I don't quite understand it…
Tera