The word "dazzling", according to the dictionary means:
to impress deeply; astonish with delight
Which I agree, does make sense. So can someone explain to me why it is that costume designers use that word for something as ugly as this as a costume for a Succubus or a Devil Woman?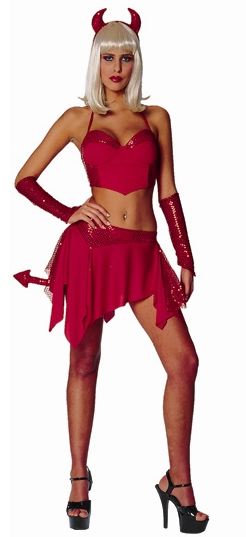 This is called, if you haven't gotten a clue by now, a Dazzlin' Devil Costume by the creators. This costume comes with the red bustier, skirt, underwear, fingerless gloves, horns & tail.
The shoes are not included, nor is what appears to be a wig that the model is wearing…
I can't say that I like this a lot, mostly because there just doesn't seem to be much imagination used in the creation of it. Other than the horns, and the tail, which seems like an afterthought, there isn't a lot here that says Succubi to me…
It also is somewhat saddening that there is not really a lot of seduction in this either, it just seems very plain and that really shouldn't be for someone trying to look seductively Succubi at Halloween. In addition to that, the list price for this costume is $50 US. Now, that is list price of course and you can find it on various sites for as little as $12 US, but really, it is worth it?
I don't think so.
The tail is too small, the horns are so-so and the costume itself could well be mistaken for a cheerleader's one really…
I'll give this one pitchfork out of five, only for the fact that it's something that could be worn in public…
But I won't be.
Tera