A little while ago I reviewed a Succubus, or Devilish costume that was made under the Playboy name…
Well I found another one…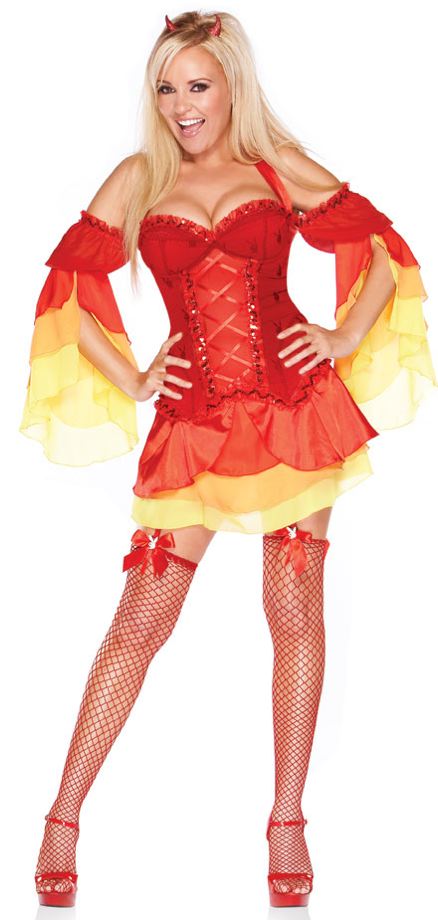 So very much to say about this one, but let's start with the basics as always… This costume is produced under the Playboy name and consists of a polyester red embroidered gossamer corset dress with ruffled skirt, matching sleevelets and thigh high fishnet stockings with Playboy charm garters and the little tiny horns. The shoes are not included with this outfit according to the description.
It's hard to call this a Succubus costume since, guess what, there isn't a tail with this costume!
While overall it doesn't look that trashy, it does not say "succubus" to me really. It actually kind of reminds me of a barmaid's outfit with the addition of the horns as an optional extra as it were.
I'm also not so sure about all the yellow in this costume. Red of course has to be there, but why yellow exactly?
Setting the overall costume aside for a moment, I do like the horns, but they look like the cheaper kind that you have to clip into your hair, which I don't like very much. Hairbands work better and you can always hide the hairband in your hairstyle easily enough…
So, overall, this might be slightly better than the other Devil Woman costume that carries the Playboy name, but there must be something sexier and gives more of that seductiveness that should be in costumes like this.
And I think that if anyone understands that, it would be Playboy…
This costume gets two pitchforks out of five.
It's not awful, and it would be a decent choice for being in public, but the first person that asks for a beer will be pitchforked…
Severely.
Tera