Black is, I think, rather a sexy colour… Especially when mixed with a pair of red horns and a Succubus tail. But then, and this is a bother, some black Succubus costumes just manage to make sexy not part of their concept…
Like this one for example…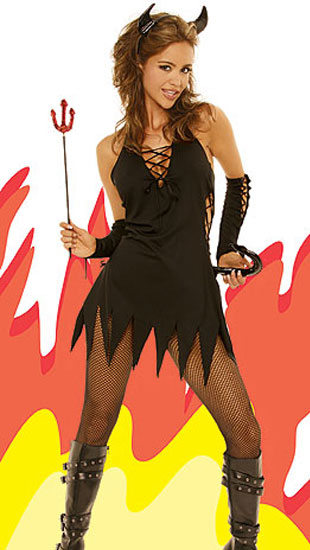 This costume is described as being a Sexy Devil Costume in black. The outfit comes with the black mini dress, fingerless gloves, black horns, black tail, and the red pitchfork. The boots and fishnets are not included in the package.
And this costume sells for around $55 US.
To be honest, the entire thing save one single part of it does absolutely nothing for me. The dress is nothing special, the gloves are ugly really, the tail is, as they always seem to be, too short too.
Oh and the pitchfork is far too small.
However, I do like the black horns… I suppose they might be useful for my Tail to use on those times when she wants to come out and… well.. play?
Anyway, there isn't enough sexy in this costume and really that's a shame. Mostly because there has not been that many black themed Succubus costumes released and, eventually, someone has to be able to get a clue and make one that combines sexy with it.
We'll see if that ever happens.
I'm giving this disaster a half pitchfork out of five. That's only for the horns just to be clear on that.
We can do better.
Tera