There has been quite a bit of Morrigan Aensland the last little while on the Tale. That's mostly because there has been a lot of really nice things created with the game world's favourite Succubus in it.
And so, for this week's Succubi, I found a lovely drawing of Morrigan that I really do like a bunch…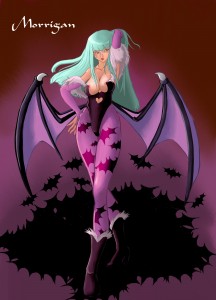 Of course this is art of the Succubus Morrigan Aensland from Darkstalkers, but that is about all that I know about this work as I cannot find anything to tell who the artist is or anything else of use here…
Nonetheless, I really like this version of Morrigan because it shows her in a classy pose that shows the power she has as a Succubus without being over the top in nature unlike a lot of works with her in them.
The detail is wonderful, she really does look very much three dimensional when you look at the larger version of this work. I also think that her wings look much better like this and the lack of the wings that are usually on her head, make her look sexier I honestly think…
I think that the artist who did this really did Morrigan proud and I hope that there is more of their work out on the internet and elsewhere to find…
Tera