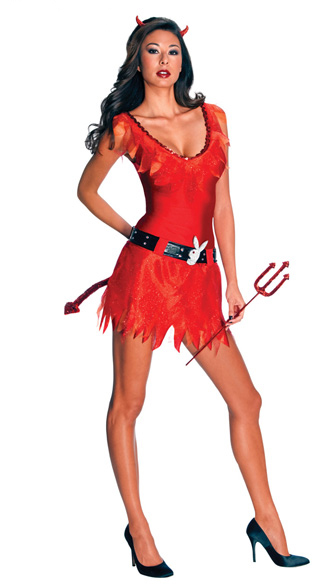 I like Playboy… I do because they don't tend to show things that are tacky or somewhat over the top in nature. But I didn't know that they were in the business of making costumes as well.
Now, having seen the selection of sexy costumes that they have for Angels, Nurses, Bunnies and more, I assumed that the costume for a Devil, or a Succubus for that matter would be as sexy as the rest…
I envisioned something on the latex side of things or perhaps something that looked as if it was painted onto the skin making it skin-tight and showing off curves like it should…
This however wasn't exactly what I had in mind…
This is simply called the Playboy Devil Costume and sells for about $50 US if you look for it on the Internet and elsewhere…
The costume comes with the red dress with an attached tail and the signature Playboy bunny belt, the red horns headpiece and the mini pitchfork. The shoes are not part of this outfit and I suppose that you can use whatever heels you fancy with it…
It honestly reminds me of the classic Star Trek series costume that women wore in the 1960s. Honestly if you think about it that becomes very apparent, Setting that aside, it seems to me that there isn't a lot of Succubus in this costume to be honest.
Part of what bothers me I think is that this costume sells for around $50 US which I think is a bit too much to spend on something that has so little going for it I regret to say…
The horns are too teeny, the tail is too short and sticks out at an odd angle and the other thing that bothers me is all of the ripped fringe on this costume…
It seems too quickly done and relies on the accessories to make the statement that this is a Devil costume and honestly that shouldn't be the way this is defined…
I've said this before and I'll say it again… A pair of horns and a tail do not make a Succubus costume work…
Still, it's not totally awful and so I'll give this two pitchforks out of five…
But really I think that since this is Playboy, it can be done better than this.
Tera