I am always looking for art on the internet that have Succubi in them, and one of the most common of them is art with Morrigan Aensland in them…
Now, one of the things about YouTube is that many artists place videos of their process in creating an image. In this case, it's actually a lesson in drawing which I think is a really neat idea…
And as always, if not embedding…
http://www.youtube.com/watch?v=htNbgqD1QY4
And a screenshot of the finished work which is, I think, amazing…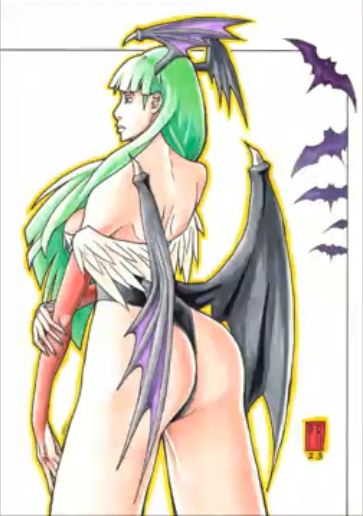 This art is the creation of the artist calling themselves Phenixryte23. They have a DeviantArt page which you can find here, and the page that showcases this work on DeviantArt can be found here as well.
I like this piece of art quite a lot really… There isn't that many drawings of Morrigan from behind, generally she is… How shall I put this… Posed to show off her assets?
It's a nice reflective piece that shows her in a contemplative mood, which I really do like because she is, really, more than what her character seems to be…
The textures and shading in her wings, both on her head and back, are really well done. The colouring really brings out her shape and form well too. Her trademark hair is just right, and I think that it's kind of cute how the positioning of it tends to draw attention away from her chest and to the rest of her body which, here, is lovely…
Do visit the video links and the links to Phenixryte23's page on DeviantArt for more art from video game characters among other subjects that they have created!
Tera