For this week's Succubus, I found something that is, perhaps, a bit over endowed in nature, but the work itself I think is really well done…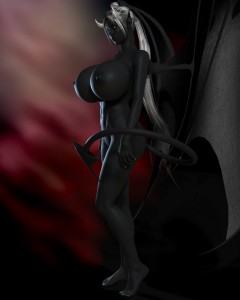 For lack of a better description, I am calling this work Dark 3D Succubus by an Unknown Artist because, quite simply, I have no idea who did this work and after a week of searching I have yet to figure out who it is…
So should anyone have an idea of the artist, please leave a comment so that I can credit this work correctly?
As I said in the beginning, she is somewhat over endowed, which is of course artistic license, but it seems a bit wrong for her to be this way… That's not to say that I don't like this work, I do very much in her tail and more so the overall look and feel of the scene which I think shows a Succubus in a light that I haven't seen before…
She seems to be sort of a Dark Elf in a way, her skin tones make me think of that, but that again is a matter of what my mind sees in her…
I think her silver horns are a neat contrast with the rest of her, her tail seems a bit heavy, but that I can live with, and her wings are really nicely constructed. I also like her white hair which again contrasts really well with her form…
I would have liked to see her with a more natural bust, but still, I really think the effort pleased into her form was really well done…
Again, if anyone knows more about the artist, please leave a comment!
Tera