I found a really interesting artwork as a miniposter on Cafe Press, they seem to be the place to find Succubus or similar art and things of late, and I wanted to share it today on the Tale…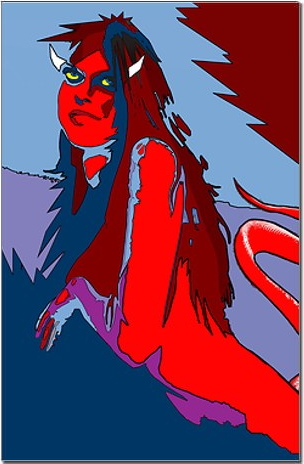 This is the creation of the artist Sean Gilbert and is titled The Devil You Know.
I think it is a very interesting stylized image of a Succubus, or Devil Girl if you prefer. While her tail isn't spaded, her horns and skin colour do mark her as being "devilish" in nature I think…
The contrast of white horns against her hair confuses me a bit, I always think that the horns and tail should match really on a Succubus…
Getting back to her tail, It's a unique shape, but honestly I think that all Succubi tails should have heart-like spade on them…
Now I noted the artist's name, that being Sean Gilbert, but I cannot find his website or anything else about him which is rather disappointing…
I can tell you that you can find this artowrk on Cafe Press here if you are interested in it however…
If anyone can give me a clue where to locate this artist, or their site, or something constructive like that. please leave a comment?
Thanks in advance!
Tera