Occasionally there are costumes that can be, when you work at them a bit, become something better… Maybe even really Succubus like if you work at them long enough…
I found a prime example of that…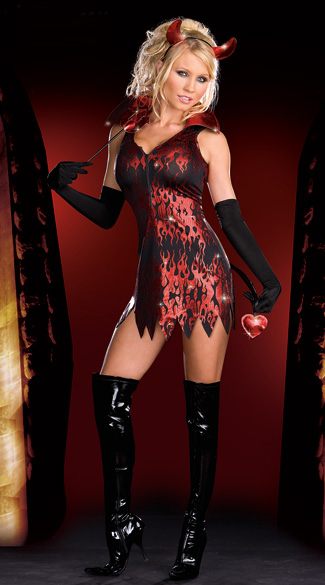 Now while this perhaps isn't the classic image of a Succubus, but it does have something of a uniquely sexy look to it.
This costume is described as being the Sexy Devil Halloween Costume and comes with a dress that has a zippered front and  high collar with a red foil flame print detail printed on the dress and jagged hem. It also comes with the, I think anyway, interesting  headband with horns and of course the pitchfork.
The long gloves, and boots are not part of the package, but I am not sure if the tail comes with this or it is something sold separately… The ad copy is not clear on that point…
It sells for about $50US but can be found on special for as little as $35 US occasionally…
I am somewhat torn on this costume for two reasons. One is that I like the print on the dress, but the hem does nothing for me. I like the horns, but since the tail is not clearly included, that makes it a bit of a deal breaker for me.
It also bothers me that the gloves are boots are not part of the costume, you need that I think for something really sexy to come of this costume… So if all of the things that are in the picture would be included, then yes, I would buy this costume…
But it's not.
So then, what I am left with is a pair of horns, a dress that has to be rehemmed, and a lot of accessories that are needed to make it look as sexy as it looks in the picture…
Disappointing really…
I'm giving this costume three pitchforks out of five on the high side and one pitchfork out of five on the low side…
As I said, I'm torn over this one…
Tera