I occasionally visit Changling Press when I am looking for some new talented writers on the web that write about Succubi or Incubi. I came across a work by an author that is listed as the first book in what is called the Demon Chronicles…
While it does not actually have a Succubus or Incubus in the story, the idea of it was tempting to me. and so I decided to buy it and see what it was like…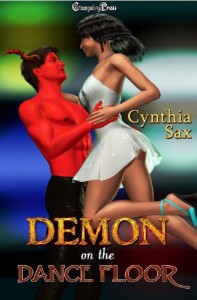 Title: Demon on the Dance Floor
Author: Cynthia Sax
Cover art: Bryan Keller
Publishing Date: 2010
Length: eNovella (36 Pages)
The story is summarized as being about:
Having lived for over three thousand years, Maximus — a powerful blood demon — thinks he has seen everything. That is… until a sexy vessel dances into his nightclub. Max has never met an unattached vessel before. They are rare and coveted by demons. He is determined to bond with the brave little brunette, keeping her for his eternal mate.

Unfortunately every other demon on the planet wishes to capture her powers. Can Maximus woo and win his freedom-loving Kayla or will an ancient rival use darker tactics to bind her?
Now, while that does not indicate there is a Succubus or Incubus in the story, it sounds like an interesting tale and so I took a chance on it…
The story starts with Kayla at a dance club that is owned by Max, full name Maximus, no last name. They seem to have a background together as there is little delay in having them come together on the dance floor and then something goes wrong. A pendant that Kayla was given by her parents melts away at Max's touch and she is revealed as a Vessel.
That event causes the other demons in the club to try to take Kayla from Max and claim her for themselves. The thing about Vessels is that they make demons stronger and since Kayla is not connected with one, that makes her a huge target in this world.
They manage to get out of that situation and then we see them elsewhere and Max faces two problems. First that if he has sex with Kayla in his demon form, she will be transformed fully, but Kayla's fears stop that for the moment. The other is that Max knows full well that now that Kayla has been revealed as a Vessel and not a "simple human", she will never be safe until he does so.
Hello Catch-22.
They attempt some magic with the help of an elf, but another demon, a rather powerful one interferes with that and things go downhill from their for the pair, or, in spite of what Max says out loud, lovers.
The rest of the story, you will have to read for yourself…
Max, as a demon, I think is interesting. Protective, but loving of Kayla. Hard and tries to hide his emotions from her, but in the end must face them or feel the loss of Kayla and himself. He is powerful and old, but sometimes he is like a teenager with his first love and that I find to be adorable…
Kayla I found to be a bit flighty at times and unfocused, but to be honest, she was thrust into a new world with no idea of what was going on in it. Both for her and for Max. The one part that I didn't like a lot was the sudden change in Kayla at certain points when she suddenly had the knowledge of what to do in a particular situation for Max to save him. I think that it was too convenient of a solution to the problem.
Augustine, the baddy of the story, seemed like the classic Devil in trying to have his way with Kayla and remove Max from her life. Of course there had to be someone like this in the story, but he was a bit too black and while for my tastes.
Two things in the story fit nicely into my idea of Succubi. One is that touching of horns is pleasurable for the demons in this work. The other is that their tails have some… interesting sexual uses… Both of those ideas are ones that I have used in my stories, because they make sense and because there has to be a good reason for having horns and a tail after all….
The story is short and as a result the arrival to its climax is fast. Possibly too fast to be honest. I would have liked to have seen Augustine try more times to ensnare Kayla, but, again, the story setup doesn't allow for that and so we see not quite enough of him.
The heat in the story was quite good, although I think a tad rushed in places. However, the bath scene had a line in it that I have to admit made me giggle for quite sometime. It also gave us a look into the personality and character of Max that made him more more "human" and likeable as a character.
I noted that this seemed to be the first story in a series, which I hope the author does continue, but she seems to have moved onto other worlds and themes which are not part of this universe she started to create.
I hope that she does return to it as, in the end, Kayla and Max have other stories to tell and questions to answer about them both.
I'm giving this work 4 pitchforks out of five.
More background on the characters, especially on how Max and Kayla met and what Kayla's parents knew and why they did what they did.
So many questions and it would have been nice to answer a few of them in whatever following stories may come…
Tera