I really have one thing that I dislike more than anything else when it comes to Succubus costumes… That thing is something that is too gimmicky, or, more often just so wrong that I can't stand it…
Well, in this case I think that it is so wrong and I can't stand it…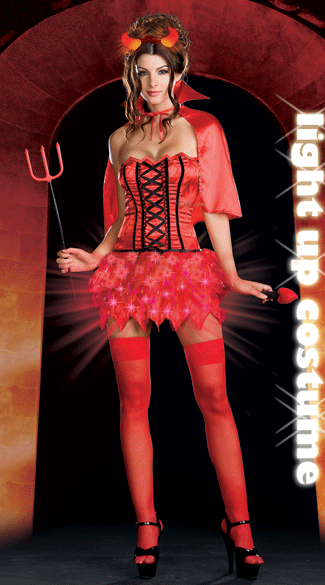 This costume is described as a Light Up Devil Costume and comes with a satin flame print jacquard dress with faux lace-up front, an uneven organza hemline skirt with red fiber optic lights controlled by a on/off switch in a hidden pocket. It also comes with a red light-up devil horn headband, the pitchfork in the picture, and a tie front satin cape with stand up collar. There is also a removable devil tail included to complete the costume.
The stockings and shoes are not included, but that's nothing unusual.
This entire outfit, batteries not included, sells for $60 US, but you can find it occasionally on sale for as low as $35 US on some of the Amazon.com stores.
It's… it's just not right to be honest. I hate glowing horns, always have, but the glowing skirt just seems to me to be a gimmick that really doesn't help this costume at all…
To be honest, the only thing that I sort of like is the cape… Makes me wonder about a Little Red Riding Succubi for some reason…. Mind you, that's not enough to save this, but it does bring up some interesting ideas…
I'm giving this costume one pitchfork out of five…
Tacky yes, and I do not like it at all…
Tera