A short time ago, I was made aware of something by someone on Twitter that posted this short post on their account
Tera, Queen of the Succubi now available from Oakham Ales
And my first thought was… What???
So that started my Googling and, after a short period of time I was on the website of a company in England called Oakham Ales.
They are a small brewery there and they have several special beers that they produce throughout the year.
And, amazingly enough, they produced this one…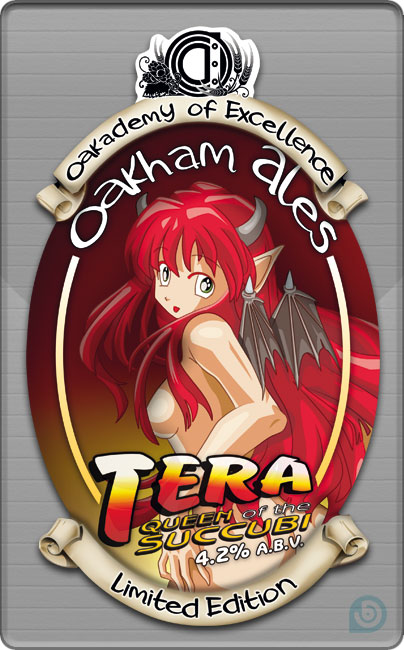 Now. I am, quite simply flabbergasted at this.
You can see the page on their site with this beer and where they are selling it in England here if you would like to try it, but keep in mind that it is only available in January and February of the year.
Now, I have sent a couple of emails to the company about this, and I received one reply back as of this post on the Tale which told me some very interesting things…
From the email they sent:
Ok we first brewed this beer back in January 2009 and it was linked to Beer Monster in December 2009 so we had a monster/demon at the start and the end of the year.

Both these beers were bimonthly seasonal brews for that year but due to her popularity Tera has come back every year since.

As for the image we thought that a demon living on Man juice would have to look quite hot so that's why she looks good for a demon.
Now that explains a few things, all of them interesting, but not to where they were inspired with the name they used for it…
As I wrote to the brewery. I'm not looking for anything with regards to the use of my name, or my Succubi character. I have been a Succubi for a very long time, and on the web I have been one since 2005 on the Hypnopics Collective…
But I am so very curious to know what was the inspiration for them…
I wonder if someone there is a member of the Collective, Garden, or Forum or elsewhere I have my Succubi self in the world…
I really wish the best for them with selling this, moreover I hope that they continue to being her to the world and that she is loved and accepted by those that find themselves being offered a pint…
Perhaps someday my Eternal and I will visit them and partake in a little bit…
But I promise that I will keep the bottle…
After all, the Queen of the Succubi must collect her royal tithe don't you think?
*winks*
Tera