I found a really remarkable piece of 3D art on YouTube this week of the Succubus Morrigan Aensland from Darkstalkers… Probably one of the best I have ever seen really…
And as always, in case the embedding does not work:
http://www.youtube.com/watch?v=0ZQ7c6ajeQ8
And lastly an image of the completed work from the artist's DeviantArt website: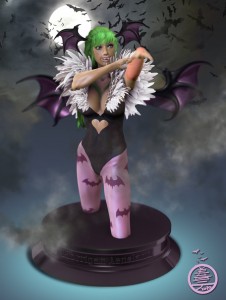 I have always been amazed by the level of detail that some 3D artists can place into their art, and this work is no exception to that…
This 3D sculpt is by and artist calling themselves Veus-T on DeviantArt. You can find their main page on DeviantArt here and the page with this art shown here as well.
I think that they have captured Morrigan really well in this pose, but what I really like is the attention to detail… Her wings, hair, and the collar of her clothing especially and they really bring out the feeling of this being more of an actual model than just a 3D image in a computer…
Actually, that brings up the question of why it is that a sculpture like this of Morrigan has never been released…
I think it would be an excellent addition to the existing Morrigan figurines that are out there…
If you visit Veus-T's site you will find all sorts of 3D art of game characters, but also some really amazing scenes and moreso a good deal of art that, while it isn't 3D, is really well done and inspiring to see of fantasy and science fiction subjects…
Please do have a look!
Tera