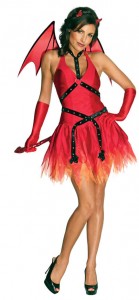 Some Succubus costumes are described as being "hot". Now I have a fairly good idea what a "hot" costume looks like…
Well this isn't one.
This costume is called the Hot Devil Lady Costume and what you get in the package is the red devil dress with an attached devil tail and the attached black strap details. It also includes the pair of red wings and the devil horns headband. The shoes and the gloves the model is wearing are not included.
The costume sells on various websites for $60 US.
It's another example of a costume that calls itself something that it really isn't.
The costume just looks too plain really, the wings add a bit of colour and theme to it as do the tail and horns, but otherwise, there isn't a lot there to like. The black straps do nothing for the overall look, and really what is the point to them anyway? If you want to add to the trashiness of the look I suppose that the straps do that, but really, this just makes it look worse.
The styling of the costume's dress is just slightly above plain and really, why would you be wearing something that makes you look plain or cheesy in the first place?
To my eyes, the costume has only one thing that says Succubus when you look at it, and that little tail attached to the costume barely, if just, makes that work. But really it's so wrong a tail anyway that if you weren't paying attention it almost looks like a strap from a belt on the dress…
Tails should not look like that.
So in short, nothing on this costume impresses me, and it's not a recommended costume by far.
In fact, I'm not even going to give this a rating.
I think that's the first time that has happened…
Probably not the last either…
Tera