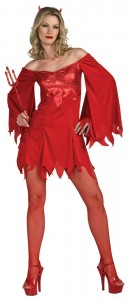 Once again I have to wonder about the people that design costumes. This costume is one example of a Succubus costume that, to me, is less than it should really be.
This costume is called a Lady Devil Costume and comes with the red devil dress shown in the picture. It has flared sleeves, and off the shoulder styling whth a shimmer fabric bodice, and a pair of red devil horns The stockings and shoes as well as the pitchfork are not included with the costume.
And it sells for $33 US all over the internet.
Honestly I can't see why it is.
What I mean by that is, I can't see why this is at all that popular a costume as it is. There isn't anything that sexy about it really, nor does it have a tail, or for that matter anything that remotely seems succubus like save for the horns.
The costume is simply one that could be turned any costume and then packaged as any number of other fantasy characters really…
I can't see any way to save it either. There is nothing about it that I like, and even if I did like the shoes, which I really don't all that much, since they aren't part of the costume it doesn't matter that much now does it?
This gets a quarter of a pitchfork out of five. It gets that only for the horns which look like they might be something I could use with another costume.
But really it is not worth the consideration at all in a Succubus costume…
Tera