I found an interesting kitchen apron on Cafe Press this week that has a sort of Succubus theme to it. Personally, I think that the artwork is a bit small but nonetheless it is wonderful…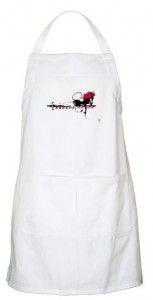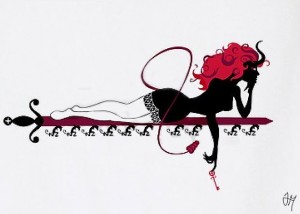 Sorry about the rather poor quality of the images, but this is all that was available. This apron is obviously to the left here and I have managed to get a larger image of the artwork, which I think is delicious to the right.
The art itself is uncredited to any particular  artist that I could figure out from the product description on Cafe Press. You can find the page with this on sale here if you are interested however. It sells for about $40 US more or less there.
Personally I would have liked to have been able to find an art print of this, I think that the imagery of the Succubus is delicious in many ways… The use of the white stocking against her dark skin is a really interesting idea. While there isn't a lot of detail in her form here, I do like her tail a lot as well…
Should anyone have a clue about the artist, please do leave a comment so that I can credit them correctly?
Tera