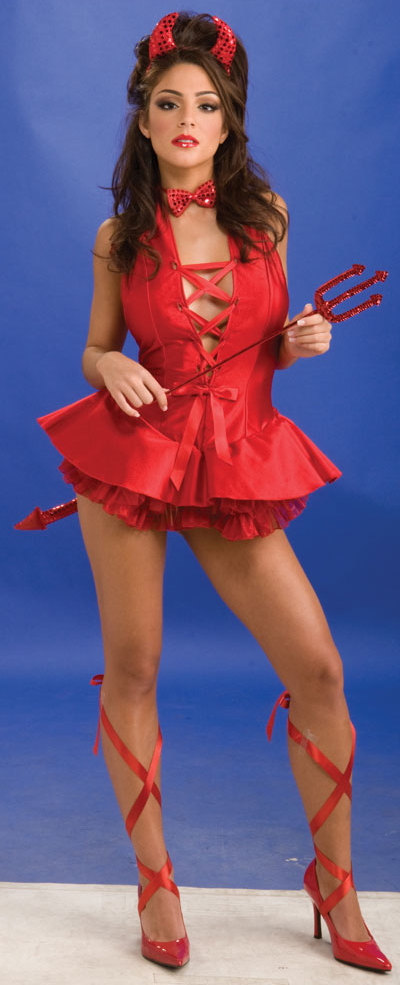 I repeatedly have commented during my search for a sexy Succubus costume that having a tail is an important thing. I need to clarify that a bit. While having a tail is important, it's not the only important thing. If the rest of the costume is a mess, then the most perfect tail in the universe will not save it.
And this week we have a case in point about that I think.
This is known as the Sexy Devil Costume and it comes with a red dress that has an attached sequin devil tail, which is just visible in the picture, a pair of sequin devil horns attached to a headband and lastly a sequin bowtie neckpiece.
The ensemble can be found for $60 US online. The laced heels are not part of the package nor is the pitchfork she is holding.
The dress… Oh what to say about it that isn't too cruel… Well I like the colour, but otherwise it does absolutely nothing for me whatsoever. Honestly where I first saw this I thought it was for a ballerina and they put a pair of horns on the model, but no, no I was mistaken.
It's a bad thing when the two things I like about a costume are either not included, the strappy shoes, or a minor part of the whole package, the horns.
While I suppose that this costume is something "safe" to be wearing, otherwise the sexy factor isn't in the dress I think by far.
Not pleased by this, and definitely not on my buying list.
I'll give it a quarter pitchfork out of five and that's being generous. And it gets that only for the horns, they would go well with the silvery red glitter dress I have in my collection, but otherwise the rest of the costume is a let down in the extreme…
Don't by this if you are serious about looking like a Succubi…
Tera