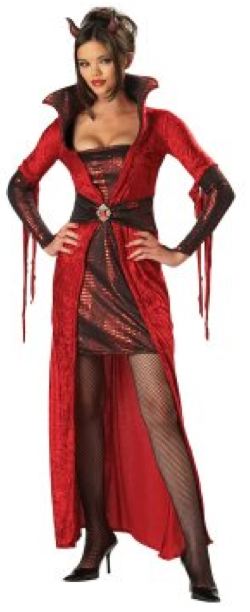 The word seductive brings up the concept that seduction, sexuality and so on is part of that idea. It does make sense doesn't it? So then the question I have is, how exactly do costume designers choose to put that word into designs that have absolutely nothing seductive in them?
The mind boggles…
This is described as being the Seductive Devil Costume and consists of a red velvet high-collar cape with sparkling snakeskin print lining the collar. A pair of attached gauntlets, which also sparkle in the same pattern. As well the jeweled belt also has that pattern on it. It also comes with a matching tube-mini dress and devil horns as shown in the picture.
All of this for $60 US, shoes and other items not included.
It's just… just so very wrong honestly in my eyes. Oh, it's not part of the costume obviously, but why is the model apparently wearing two different kind of pantyhose in the picture? It might just be a shadow over them, but there is a hell of a difference between them isn't there?
Once again, there is no tail to speak of as well. Disappointment just continues on this costume for me… I don't know why exactly, but I look at this design and think that I saw this outfit being worn by the Evil Queen in Snow White…
I'm fairly sure of that.
It would be easy to do better. Seriously. This just looks unsexy and unseductive and any reasonable Succubus should run away screaming in horror rather than wearing it.
It gets a half pitchfork out of five.
The horns aren't that bad really.
Look elsewhere.
Tera