It strikes me that a Succubus costume has to draw a line between what is sexy and what is too skimpy… Well, that's true for something you might want to wear in public, but not necessarily so when you are having some fun in private…
But then, on occasion, you need something that is "kids friendly" to wear, and so you look at all sorts of gowns and so on that cover all of the naughty bits, but still makes you look, if not completely sexy, at the least not silly…
This might qualify as silly…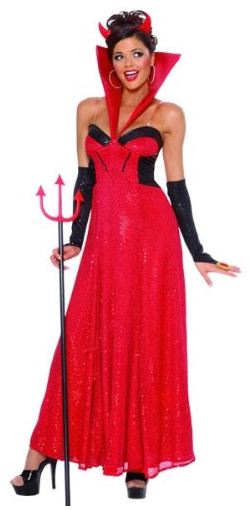 Or at least a bit much to be honest for my particular tastes…
This costume is described as being a Devil Costume, very descriptive isn't it? Now it is offered in two different versions, one mostly in black, the other mostly in red. Regardless of that, the black costume, on the left, consists of a full-length, sparkling black gown with spiked high red collar, black trim details, clear spaghetti straps and black glitter fingerless gloves and a pair of red horns. The shoes that the model is wearing, and the pitchfork she is holding are not part of the costume of course…
The costume on the right is almost exactly the same thing save that the fringes are a bit different and that red is the primary colour rather than the black.
The costume on the left sells for a $20 US at various sites on the web including Amazon.com. The costume on the right sells for $40 US… If you really want to that is…
So what exactly is the difference that the one on the right is worth an additional $20 US? Perhaps the slightly better colour coordination is worth that?
I personally like the red one better, mostly because I think it just works better than the black. But the one thing that bothers me most of all is that high collar. There is no possible way you can wear your hair dow with that costume that I can see. So that means having some elaborate bunching of your hair on top of your head, and that usually means it will look a mess by the end of the night, which a Succubus shouldn't be without a good reason don't you think?
I suppose the shoes are a must for this costume, that low hem can be a problem at times with lower heels…
I'm going to rate this costume one pitchfork out of five, but only for the red one. The black gets half a pitchfork.
If you have to look "normal" I suppose this one will manage that well enough…
Tera