I found a lovely Succubus themed iPhone skin this past week and I thought I would share it with you all today…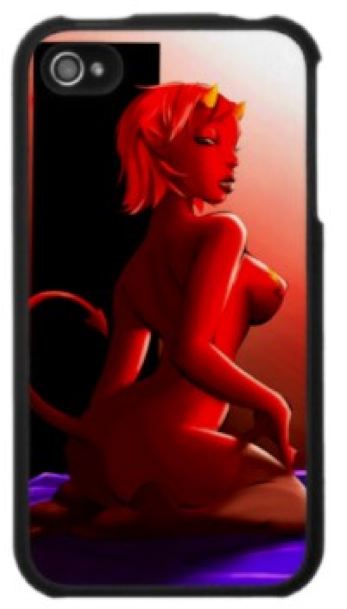 I found this on Zazzle, which seems to be of late the place to find things Succubish. It is a case for the iPhone which shows a lovely image of a Succubus looking over her shoulder.
It is the work of someone calling themselves Wraithe Custom Design Cases and is sold under the description of Demonic Lust.
You can find  Wraithe Custom Design's page on Zazzle.com here, and the page with this item available for sale here.
Now obviously this isn't something for everyday use, it's a bit not safe for work to put it mildly, but otherwise I like it a bunch…
A lovely tail of course was the first thing I saw. a nice shape and point to it makes it nicely Succubi-like. I like her body shape and pose, very seductive and really well done.
I'm not so pleased with her horns, I still think that the tail and the horns should match, but that's artistic license isn't it?
I would have liked it if she had a longer hairstyle, and perhaps something other than the orange-red she has. It also would have been nice if the image wouldn't be quite as dark, a lot of the details in the art are lost in the shadows which is a bit of a shame. Still the overall effect is that of a Succubus and that it something very nice to see…
Something to consider when you want to protect your iPhone isn't it?
Tera