For the first Succubi of the Week for 2011, I am going to share a work that I first found through the artist's Twitter page when I was doing a search for Succubus on Twitter…
And I think that this is one of the very best Succubi 3D images that I have seen…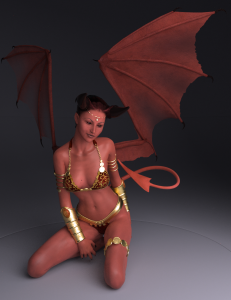 This work is called Coy Succubus V2, and is the creation of an artist calling themselves Jerril. I found his work shown on his Flickr account page which you can find here. And with his kind permission I am sharing her with you all as a Succubi of the Week…
I really love the normal skin tones she has, I think that using red tones would have washed out a lot of the details you can see. The outfit and jewelry are really nice and contrast well with her skin. The wings are nicely textured and seem to come out from the right place on her back, which is important…
Her tail is quite interesting to me, if perhaps ever so slightly out of proportion with her form. Normally the tips of most Succubi tails are somewhat smaller, say by half of what is shown in this work. But I do like the style of tail that was chosen.
Her horns are somewhat hidden by her hair, but you can make them out when you zoom into the image. They aren't the same colour as her tail, but that, as usual, is artistic license more than anything else.
Other than my few little nits, which really are personal preference more than anything else, she is a lovely sensual being that represents Succubi so very well…
Again, I wish to thank Jerril for his permission to share his work with you all!
*huggles*
Tera