And so we begin another year of Succubus costume searching. But to begin with, I am going to be looking at some wigs and horns that I have found. Some of them are really lovely, some are, of course, a mess beyond words.
Still, as this is the first Tale post of the year about costumes, I am going to start with what I think is the silver standard of Succubus wigs.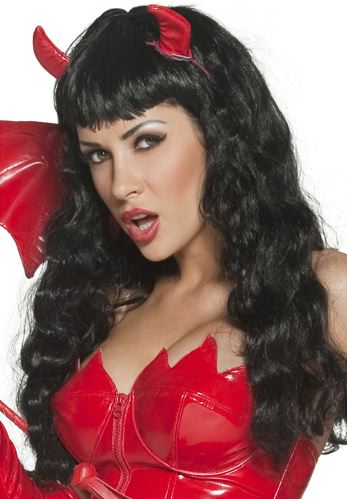 Now it's not the gold standard, that wig I talked about on the Tale last year. So this one takes a close second to it.
The reason that I think this is the second best Succubus wig out there comes down to the hairstyle it has, I do like the Betty Page look to be honest, and connected to that is the horns are very similar to a look she has in one of the Devil Girl imags of her. You can google for them really easily to see what I mean.
I have to admit that the model makes this all work really well. An excellent costume along with the look she has and the wig, it all comes together to become a very convincing image of a Succubus.
The wig itself sells for a very reasonable $20 US. That's well within a price range that can be easily afforded and isn't too hard to add to a costume really…
And I have actually…
I ordered it just before Christmas and while it hasn't appeared as yet, I think it will be a wonderful addition to my Succubus costumes and goodies…
But next week?
That isn't…
Tera