For the last Succubus costume of 2010, I have probably another one of the worst ones to share…
I asked a few weeks ago if there was such a thing as a Succubus costume that could be fluffier than the ones I found. This comes close I think.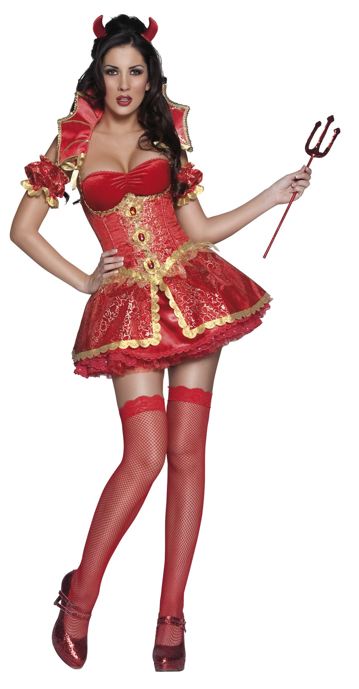 Hard to describe it isn't it?
This is called the Fever Boutique Devil Dress and comes with a red dress, a corset with attached overskirt with gold detail, a detachable bat wing-like collar, a pair of pull on sleeves and of course devil horns.
The pitchfork, stockings and heels are not part of this costume as is the usual thing, and as usual in cases like this it wouldn't help anyway.
And it sells for $75 US on various sites on the internet if you really want to find it…
It just strikes me that this costume, along with the two other ones that I have posted on the Tale like this in the past month, just don't quite get the idea of a sexy Devil Woman or Succubus in the slightest.
I'd almost describe this as sort of a "fairy-tale" sort of costume, something that you might wear to tell stories to children on Halloween or something, but I would be too embarrassed to do that really…
It brings me back to a question that had been bothering me about the company that makes the Fever line of costumes.
That is, how can they have several decent costume designs and then strike out with half of their catalog being made up of such terrible ones?
I don't believe that it is a marketing ploy, but if it is, I think they need to rethink that some.
Giving this costume a quarter pitchfork out of five.
Again, avoid.
There are so many others better than this.
Tera