Once again this week, I found yet another costume that just doesn't quite understand that looking sexy comes first when you want to be a Succubus…
I mean… Honestly how hard was this one to create?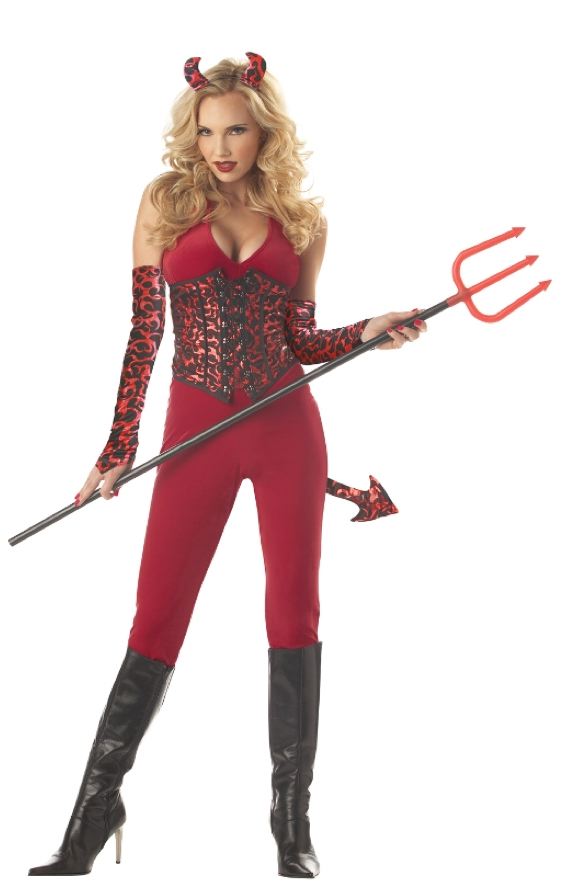 Honestly all this seems to be is a mishmash of two costumes that probably weren't selling well in an effort to clear out stock.
This costume is called the She Devil and comes with a red jumpsuit, a tiger print corset, a glittering pair of red horns on a headband, tiger print glovelettes, and a tiger print tail that matches the corset and glovelettes…
The boots and the pitchfork the model is holding do not come with this costume, nor do they help it one bit really.
The costume sells for around $40 US at various sites on the web, it's easy enough to find.
But seriously, why would you want to?
This isn't sexy, looks really lousy, the boots don't help the look at all, the tiger print parts don't make sense. Why would her tail be a tiger print pattern? It just makes no sense whatsoever.
This just looks wrong for a Succubus or a Devil Girl. There is so little sexy in it, it looks lousy and it won't be on my list for next year…
I can't think of one way to fix this, it's pretty much a lost cause and that's a shame…
One quarter of a pitchfork out of five if for no other reason than the horns look mostly okay but are not the best I have seen…
Avoid.
Tera