I think I have found the most… well… fluffy Succubus costume I can think of… At least so far in my search for a Succubus costume at least…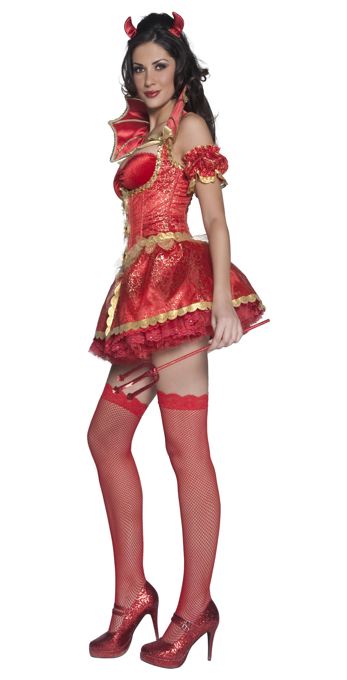 I really just do not like this costume at all… It sort of reminds me of Cinderella for some reason… I mean… There is just too much fluff in this costume for me to even think about wearing it…
This is sold under the name of the Fever Boutique Devil Costume and I think that of all of the Fever line of costumes this one thrills me the least of all.
It comes with a red dress, a corset with attached overskirt with gold detail, a detachable bat wing like collar, a pair of puffy pull on sleeves and, of course, a pair of devil horns.
The pitchfork, stockings and shoes are not included in the package, but really nothing can help this costume in my eyes to look better…
The costume sells on the web for about $80 US on the average, with the pitchfork another $20, the stockings are $12 and the shoes $25…
I'll have to admit that I kind of like the shoes, but the rest of this just isn't good to be honest. There is so little sexy in it that I just have visions of being mistaken for the Fairy Godmother instead of a Succubus…
Which would do nothing but make me cringe… A lot.
One half pitchfork out of five for this one.
Shouldn't be on anyone's list of costume choices whatsoever.
Tera