Recently I added a SuccuWiki entry for a book that I discovered in my searching on Amazon.com. I noted that I would be adding a review there in the future, but first I am going to place that review here on the Tale.
The book I am going to review is called Lovestruck Succubus and is by the author Ellison James.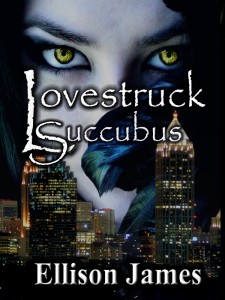 Title: Lovestruck Succubus
Author: Ellison James
Publishing Date: November 13, 2010
Length: 148 Pages
I would best describe this work as a romantic supernatural crime drama, and an excellent introduction to the characters and worlds within this story.
If you purchase this work, you should be aware that it is the first in a series of stores that this author is planned to release, the next book in the series being called Demon Among Wolves, the release date, as yet, is unknown.
The story revolves around a Succubus named Azra who has a rather large problem. She is told by her kind that she cannot find love as it is not for beings like them, but she continues to try and find that love regardless of the pain and suffering she inflicts upon herself.
Azra makes her home on the mortal world in Atlanta Georgia, and spends as much time as she can there. However, her search for love has meant that she has left a trail of bodies in the city behind her. As a result she is made to face judgement in front of a tribunal of demons that sentence her to remain there, her needs slowly breaking down her will. At the same time, a detective named Raif Lungren is investigating the deaths.
Azra makes some errors in judgement that bring her and Raif face to face. They are attracted to each other and through that attraction, Azra learns Raif's secret, and that secret comes to threaten both of their lives.
That's all I am going to reveal about the story in this review, I think that the above summarizes the main character's situation well.
I found the writing quite good, the drama wasn't over the top, and the plot followed along well from place to place. I like the use of Atlanta in the story, the descriptions of places were well done and I felt like the author knew the places well.
Arza is an interesting example of a Succubus, she has a demonic form that isn't all human, but has a human side that fits well for her as a mortal. I found the use of her Succubus powers when she was with Raif quite original. I didn't expect the changes when they came and the confusion on both sides, Arza and Raif, was an interesting layer placed on them both.
There is a "baddy" in the work named Tarmin, who is very evil as you would expect any demon to be. But I was less impressed with him than I was with Tatianna, a lesser being in the demon planes that I think is just fascinating. Not just in what she did in this work, but what she could become in the future stories to come.
The story did leave many questions unresolved, as I would expect the first story in a series to do, but that didn't bother my enjoyment of the story as a whole. I thought the work was well polished, that the world was well constructed, and that I found that I cared about the characters.
I'm going to give this work 4 pitchforks out of five.
I would have liked a bit more about characters such as Tatianna to round out the story, as there were many questions about her and the other members of the Demon Council that were unanswered in this story. But there will be another chapter in the story to be told and I await that with a swisch in my tail…
Tera