I was looking through a website that has all sorts of wallpapers for your computer on it. There were the usual things to be seen such as models, cars, landscapes and so on.
And, as it matters to me, one very delicious Succubus wallpaper that I am going to share here…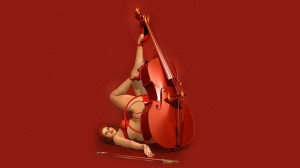 Now, when you click on this image, you will see a larger image which is a good thing because whoever created this work put so very much into this Succubus…
She has my most favourite tail shape, I know it very well since I have used it on many of my own photo manipulations. She looks like a 3D program created her and then some little additions were Photoshopped in, but that's just fine… She looks playful and sexy in her pose, her tail being mischievous as all tails are meant to be… I really like her clothing and heels, they match so perfectly with her look that I really can't think of anything else that would work better for her in this setting…
This image reminds me of a manip that I did several years ago… It was an image of a Succubi playing a fiddle and a story that was a play on the song The Devil when down to Georgia…
It's one of my personal favourites for all of the joy that came from that work….
Should anyone have an idea who created this work, could you please leave a comment here on the Tale and let me know?
I really would appreciate it!
Tera