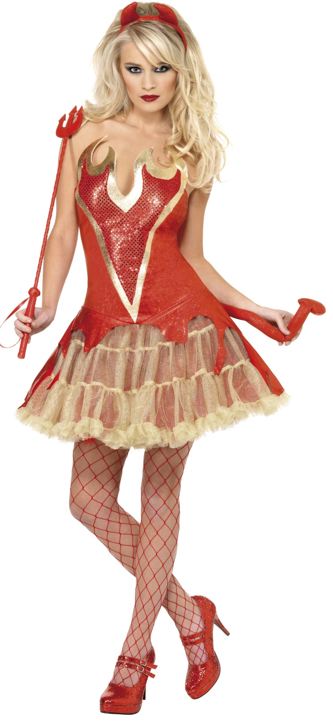 I think I have found a Succubus costume that falls into the What the heck category of costumes… It's not available as yet, it won't be until next year, but I thought I might as well get my frustrations out a little early…
Because it really is that frustrating and more.
Sometimes I wonder about the names they give costumes… This costume is described as the Fever Flamin Devil Costume and comes with the red dress as shown in the pictures here. It also includes the flame style bodice and the gold and red tutu with an attached red tail as well, plus a headband with devil horns in red to complete the package.
It does not include the shoes nor the stockings as is normal with most costumes, nor does it include the pitchfork that the model is holding either.



To be honest, this is a case of only liking the horns and wanting to toss the rest of the costume away… The tail is wrong, the tutu does nothing for me, the bodice is just so over the top I can barely stand it…
So, this just isn't something I would consider as my Succubi costume for Halloween…
However, if you like it, it's available on the web for about $65 US, but you won't see it until 2011. I hope that it's worth the wait for you…
I probably won't be…
I'm giving this one pitchfork out of five, just not something I would like to see any Succubi wearing…
Tera