For this week's Succubi, I am going to share a small, and that's a shame, line artwork of a Succubus… The thing is that I am sure that I have seen this work before, and I think I know the artist, but I can't confirm anything…
And as usual, that is driving me a little nutty…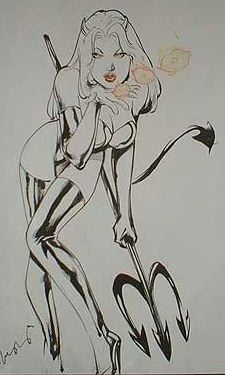 Clicking on the image will not give you a larger version of this yummy Succubus and for that I am sorry. If there was a larger one to share I'd share it with you all, but, there isn't one that I can find…
I love the little kiss that she is blowing into the air, it's just a neat little added touch in this work, but that's not the really perfect thing about it. No, what makes this work for me is all of the little details you can see. Her pitchfork, the sinuous tail, her horns and, of course, the latex-life clothing and thigh-high boots she is wearing..
Just a lovely Succubus being sexy and tempting like all Succubi should be…
If anyone has a link to a larger image or an idea of who drew this, please leave a comment!
Tera