This week I am going to share one of those costumes… You know… The ones that my tail and horns twitch over because I cannot understand where the idea came from nor can I see why this is a good idea…
Seriously.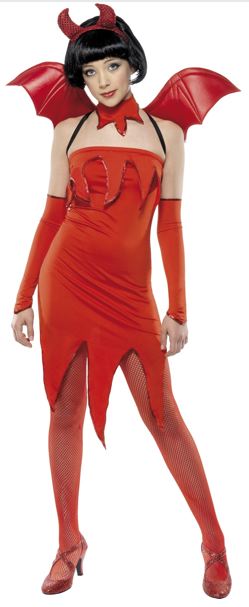 I mean honestly, what was the source of this concept?
Anyway, this costume is called the Devil Pixie Costume and comes with the pair of red devil horns, the one piece dress, a pair of red wings that are made of one large piece of plastic, which attach to the rear of the dress. You also getg a chocker of the same material as the dress and a pair of fingerless arm sleeves to complete this outfit.
The stockings and shoes are not part of the dress and must be purchased separately.
Now I have a lot of problems with this costume. I'll put one caveat here before I rant a bit on this costume and that is it's good for dealing with the young trick or treaters that come to your door.
It's not too sexy really and you aren't likely to have parents mumbling when they see you, which, depending on your personal views might be a good thing really…
Setting that one point aside, the overall look of this  seems to be too cheap for my liking really, the ragged edges on the dress I do not like, the collar is wrong, and the armlets are an extra touch that really doesn't do a lot for the overall appearance of this.
The wings might be something useful with another dress, but otherwise they really don't add a lot here to be honest. This just seems to be a tame, safe costume for those that can't be really Succubi-like for Halloween…
Which is a shame.
This costume can be found on the internet for about $35 US, which is not an excessive price for this costume and in a pinch for something to wear to a kids Halloween party I might, might mind you, actually wear it…
But I won't be too thrilled by it I promise you.
I'm giving this one pitchfork out of five. It gets the one pitchfork for the only time it would be something to wear, and that is something very rare.
Tera