Occasionally there are some Succubus costumes that come close to being in the running for consideration.
Occasionally.
Then there are some where the costume itself isn't as interesting to me, or as sexy as it could be, when compared to some of the accessories they suggest you need for it to work for you right…
Like this one…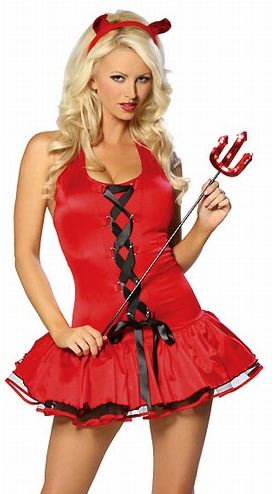 This is called the Devil Hottie Costume and what you get in the package is a lace-up front mini dress with attached petticoat, a pair of soft horns, and a pitchfork. The dress is made of spandex and is very stretchy… It needs to be because it pinches in a few places otherwise…
It seems so very plain to me to be honest. If I didn't know better I would assume that it was a simple red dress with lacing in the front. I have lots of those in my closet to be honest…
With the exception of the horns and the pitchfork it doesn't really call out "Succubus" to me, rather disappointing really…
You can find this costume on the web for around $60US…
What's a bit more disappointing is that along with this costume they suggest something to "kick it up a bit"…

That being a pair of red patent boots to wear with this costume… The boots, as shown here, are $60 US as well, lace from the front and have a reasonable five inch heel as one of the options…
So here's my dilemma. I can either buy the costume for $60 or the boots for $60. I could wear the costume and look sort of Succubus-like to I could forget the dress, pick one of my own, possibly one of the latex ones with the slit down the right leg, add the boots to it, my favourite pair of horns and my silver and red pitchfork to it and probably have something that is about a thousand times sexier…
But I digress…
So, overall, the costume isn't that great, the horns are mostly okay, the pitchfork is one of the cheap ones, so don't like that at all.
I'm giving this one pitchfork out of five.
I can do better with one of my sexier red dresses than this costume and look a lot better I think too…
Tera