Earlier this year I wrote about a collected series of stories by the author Many Eyed Hydra… You can find that Tale post here if you are interested in seeing it…
Well, that day has finally arrived…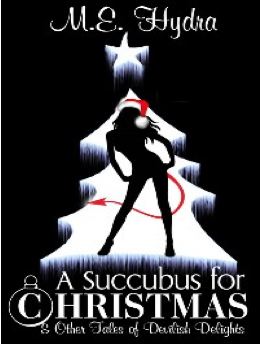 It is with great pleasure that I announce here on the Tale that M.E. Hydra's book, A Succubus for Christmas will be released at eXcessica Books this coming Friday, October 22nd…
This is a collection of some of this author's best writing including the stories:
A Succubus for Chistmas in which a man discovers his surprise sexy gift also possesses a dark side… The Masterton Covenant asks how much would you risk for one night of perfect pleasure… Four men are taken to a very special place in Flesh Pitchers of Prague… A tough demon slayer discovers why 'Men can't fight them' in Slayer vs. Succubus… A man gets his Happy Ending in a sensual massage that touches him right to his soul… A former soldier tries to resist the wiles of an exotic alien queen in The Coils of Aenictia.
All of these are just a small sample of the thirteen works that make up this lovely collection of Succubi story goodness… Or evilness depending on your point of view…
You can find this novel on sale at eXcessica Books here.
As always, you can see Many Eyed Hydra's blog in the link here in the Tale's sidebar or you can click here to be automagically taken there!
I wish M.E. all of the luck in the world on the publishing of his work and I hope that he will grace us with more delicious stories of the Succubi really soon!
Tera