I think that this week's Succubus costume has just about the most material and covers the most of anything that I have considered so far on the Tale…
What do you think?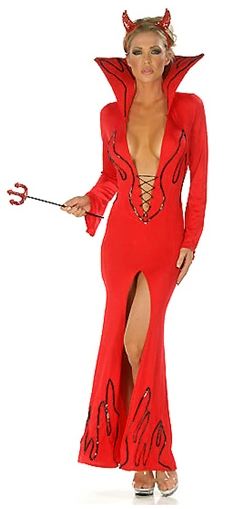 I think it does to be honest, and that material I think, while it does hide a lot reveals almost as much…
This is called the Sexy Lil Devil Gown Costume and includes the lace up front gown, a pair glitter horns and the pitchfork in the picture. The shoes are not included, but they do make a nice match with the overall look so I would most likely order them as well.
The horns are mostly okay, but I think that glitter horns with this costume don't seem right to me. The pitchfork of course has to go, that's just too cheap looking and I can do better than that easily…
I think that the flame motif on the gown is a lovely touch and the way it is cut really works well… The slit in the dress will allow a good deal of movement, important for walking up stairs and the like, as the front is cut nice and low, although I know that it will be distracting to a lot of people  making me say, probably more than once, "Up here handsome…"
Regardless of that, the costume sells for $125 US, but it should be noted that this is not a mass produced costume. They are hand made apparently to order, and I rather like that idea as the fitting will be better and more importantly, I think that the materials are better as well…
I think that this is a really good costume for the office Halloween party… Not too over the top, it does reflect a Succubi personality if you have one, and I think that it can be a lot of fun to act like a Succubus Queen wearing this… After all you aren't really showing a lot of skin wearing it and you aren't likely to get a lot of odd looks the next day at work…
I'm going to give this costume four out of five pitchforks. It's a good overall costume that teases and is sexy, but can be used for more tame moments on Halloween as well…
Tera