Continuing on from last week's costume discovery, I also found this version of a Succubus Costume at that time that does have some… interesting… possibilities…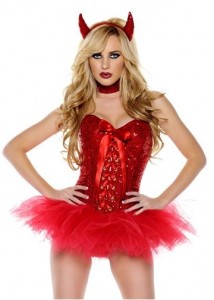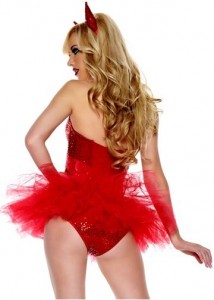 Now while this costume does have some similarities to last week's costume, I think I might like this one a smidge better, but it's hard to really make a choice between this and last weeks…
Might have to think about ordering both perhaps? We'll see…
Anyway, this costume is called Sequin Deluxe Devil and is made by a company called Mystery House, the same company as last week's costume…
The costume consists of a red sequin corset. with the ribbon in the front, tutu skirt, which is, I think, exactly the same one as last week, a pair of horns, again, the same as last week's costume and choker. Other accessories are not included like pitchforks and a tail or shoes.
This costume sells for $140 US, but there was a pre-order which offered it for $110 US…
As I wrote about last week's costume, I think this is a good around the town costume and would work well handing out candies to the kiddies at the door… It does still need a tail, honestly what devil or succubus costume doesn't?
Again, a four pitchforks out of five rating for this one, needs the tail…
Tera