Sometimes I wish that I would get information on shows and events that have Succubi or Succubi performers in them a bit earlier than I have been of late…
For example, I discovered this ad on my travels in the past week…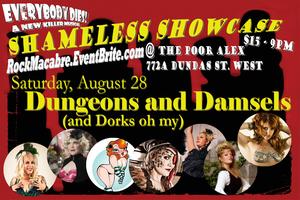 Now this was a show that was held in Toronto at the end of August… More interestingly, it was a burlesque show that had some of the best performers that are based in Toronto and the surrounding regions in it… And as you can see from the ad here, the show was called Dungeons and Damsels…
And what interests me is…
One of them appeared as a Succubus…
Now some people might think that since I didn't see the show I couldn't know that there was a Succubus in it, nor what she looked like…
Well, thanks to the performer in question who calls themselves Red Herring and YouTube…
I can.
And in case the embedding doesn't work:
http://www.youtube.com/watch?v=5FmD6D2XEW0
The first thing I want to say is that I love the mix of sexy and cute that her outfit is.. The heart on her tail is especially cute and I have to admit that I giggled when I saw it the first time… Her dancing is really amazing and I love the little touches of whimsy and fun she was placed into her art… The feathers are an especially fun touch that I think would have gone over really well at the show I am sure…
I also think the horns are really nice, and her corset just makes the whole ensemble fit together just so wonderfully… The stockings I am not quite as happy with, but the shoes are a nice touch as well…
For those that are interested, she has a website that you can find at, and I love the site name by the way: A Professional Distraction. She also has a blog that you can find here.
Please do have a look won't you? She really is amazingly talented!
Tera