I was looking on Hentai Foundry again, and came across a rather unique Succubus artwork that I think very highly of…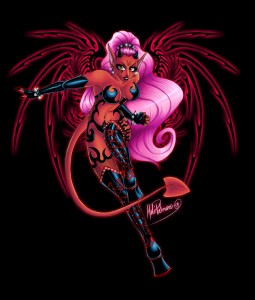 This work is by the artist Volvom and is entitled Soraja. She is described as being an ofiukhos woman, from the Mi'Cerle demon court. Now, to me, she does have quite a few aspects of a Succubus that I can see in this work. Her tail of course, her horns, and of course her outfit which really is quite Succubus-like…
What I really am floored by is the almost life-like shading, colouring and just her overall look and pose which I think are just about perfect in every way I can think of really..
You can find the original page with this art here at Hentai Foundry.
And you can find Volvom's artist page on Hentai foundry here as well.
And they also have a DeviantArt page which is here.
Hoping to see more lovely Succubi from this artist someday soon!
Tera