Sometimes I wonder about organizations that have their names placed on products, services and so forth. What surprised me this week was a costume that had the Cirque Du Soleil name and logo on it…
Moreover, my thought was… this seems to be a bit odd for them isn't it?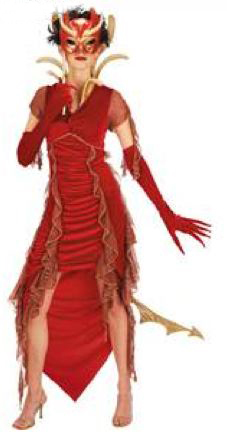 This costume is described as being a Cirque Du Soleil Diabla Devil Costume. I can see the style of this show in the costume. they do like their frills and somewhat different take on legends, myths and ideas as well…
This officially licensed costume includes a red velvety dress with sheer gold embellishments, an attached gold tail and gold "flame" collar that can be shaped as needed. A red handheld mask with faux gold leaf horns is included as are long, red velvety gloves with pointy fingers. However, the shoes are not included in the costume…
Now, originally this costume was available for $140 US, but it now appears on the web for around $75 US at various sites including Amazon.com…
And I'm sorry but this doesn't do a single thing for me. To be honest it looks like a bunch of fabric stitched together almost haphazardly and that really is what disappoints me most.
The gloves really are something I cannot quite understand either as they have long finger lengths that, I think, would make holding things a bit difficult… I could be wrong, but it would concern me a lot…
I might keep the mask and alter it some, I would add straps to it and make it no longer a handheld one. That's something that again, makes little sense to me as you have to keep holding up the mask throughout the evening's party and I don't think there are a lot of us that can do that.
I'm going to give this costume one pitchfork out of five, but that's being generous I think to be honest…
Definitely not on the costume list for me…
Tera