This week's Succubi is something that seems a bit different, but, in my eyes, I think that it does reflect my own idea of what Succubi are…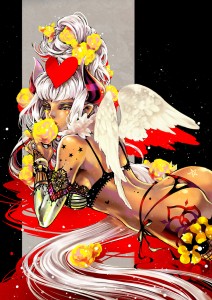 This work is called Succubus and is by an artist who calls themselves Miist. Interestingly, this work, is described by Miist as being the cover illustration for an Original anthology art book project called The D. It was a project they did with friends having a theme of being about the Devil, and they decided that that cover theme would be of a Succubus for it…
I like the mix of sexuality and innocent love that seems to be circling around the Succubus in this image. Moreover, The sweeping arc of her hair underneath her and the complicated braiding that contains the heart as it's centrepiece, is a lovely detail that fits in well with her shimmering horns that frame it all…
He outfit is really quite right for a Succubi, just the right mix of sexuality and a hint of anticipation which works really well indeed… Her wings are interesting to me as they seem to be almost half-Angelic in nature, not being the usual bat-like ones you would usually see… Actually they remind me of the ones I occasionally let appear in my role-playing games I play.
The only thing she is missing is a tail. That kind of disappoints me as it usually does, but truly I love this work so very much and wish only that she did have a tail to make her perfect in my eyes…
Miist has a DeviantArt site, which you can find here.
And you can find the original posting of this work on his site here as well.
There are all sorts of wonderful works of art there that I really think are something so very special indeed…
Tera