I have heard of minimalistic costume ideas… But do two pieces of plastic make a costume? For me it does not, but… Have a look and decide for yourself…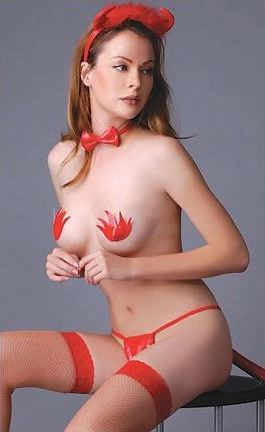 I mean… This really is the definition of a costume that really does not take a lot of material to make isn't it?
This costume comes with several pieces… and glue. Because of course you need the glue to make this costume work don't you?
All of the costume is made of polyester and you receive in the package the horns, the bow tie, the thong with a tail attached to it, and the two pasties that look like flames… The stockings that the model is wearing in the picture don't come with this.
Right off the top, I'm not exactly thrilled by this costume… I mean, this isn't so much a costume as a few pieces of underwear… And not a lot of it really if you consider it…
I wouldn't wear it in public, and, to be honest, it's far too tacky to be something that I might wear for my Eternal…
I do have standards after all…
However, if you are interested in it, I found it on Amazon.com for $37 US… Not sure this is worth that much, but that is what they sell it for… What is also interesting is that the pasties themselves also appear in several other costumes except in different colours, but otherwise quite similar looking costumes save that they are for witches or faeries and the like…
Only giving it a half pitchfork out of five…
Just isn't my style….
Not even considering it, but shaking my head over it…
Tera