I found another bit of Succubus-like art on Zazzle that I find interesting in several ways, one of those being that it put a bit of a story idea into my thoughts this week that I think will be interesting…
But first, the art itself: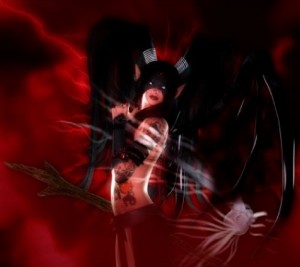 The title of this art is Soul Stripper and it is the work of the artist Moonlake. She has but one site that I can find, that being on Zazzle here. According to that site, this artist's name is Tanya Hall and she is based in the United Kingdom.
I find this work interesting in a few different ways… The mask she wears is different and somewhat appealing… She does have horns and wings, but no tail to speak of regrettably… The tattoos upon her bosy are interesting as, if you look at them carefully, they seem to be different emotions of love and life, which makes me ponder if she is less of a "soul stripper" and more of an "emotions taker" instead…
Which then brings me to my story thoughts… Those being around a Succubus that is at a costume party, looking not as a Succubus, but something close to this image and the misfortunes that come from that both for those at the party and for her in taking them…
But it needs more thought… And I'll do that…
You can find this piece of art here on Zazzle.com if you are interested in it for your collection too…
Tera