I discovered an interesting student film on YouTube this week that touches on a number of myths, but especially that of the Succubus…
It's called Savage Indulgence…
And, as always, if the embedding doesn't work:
http://www.youtube.com/watch?v=toizWp1YIW8
This film tells the story of a woman who is confronted with her inner demon after having a night of debauchery and conflicts. It is a student film, really quite well produced and shown, I didn't expect it to be one when I first watched it… I think it's really well polished.
The film was written and directed by Chuck Strickland. Interestingly, according to the information on YouTube about the film, it is an interpretation of a poem written by Maria Wolters called "A Little Devil in Your Head". A poem that I have, as yet, no luck in finding to read myself.
I'm going to show a screenshot of the demoness, or as I think of her, Succubus so I can talk about her a bit…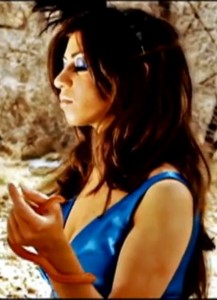 I think that she is rather interesting really.. I know that she has no horns or tail, but it's interesting that she displays some other traits that make her "demonish" in nature.
The snake she holds of course harkens back to the Adam and Eve myths, the goat is, as well, a symbol to be pondered as well…
She is an interesting foil to the female lead of the story, and the words she speaks are quite interesting when you consider her as a Succubus…
Perhaps she might be a facet of Lilith in some small way, her mannerisms, at least to me seem to be reflecting some of the aspects of Lilith…
Something to ponder I suppose…
Really thought it was an interesting take on the Succubus myth save for the screaming at the end which was, I think, a bit overdone…
I wish those that made this work the best in their future works!
Tera