I discovered a very interesting figurine that will be released later this year and since it is of a Succubus… A rather well-known one at that, I thought that it was well worth talking about today on the Tale…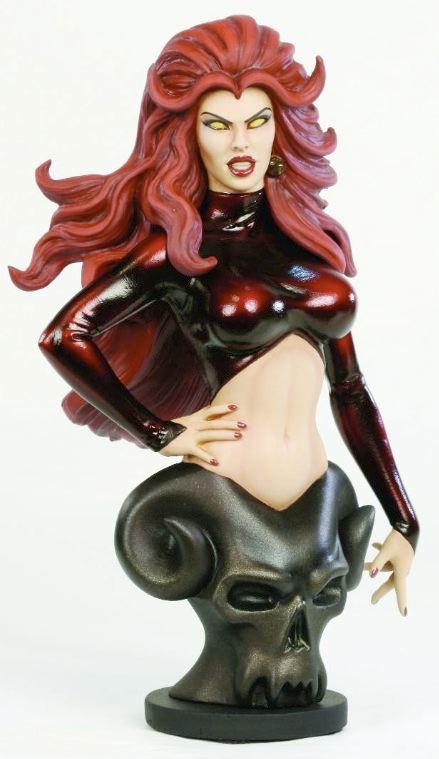 This figurine bust is of the Marvel comic book character Santana as sculpted by Mike Cusanelli of Bowen Designs.
You can find their site here.
Santana is, as her entry in the SuccuWiki explains:
Santana and her brother Daimon were born in the fictional town of Greentown, Massachusetts. They were the half-human children of a demon who claimed to be the Biblical Satan (his true name would later be revealed as Marduk Kurios). Santana and her brother were groomed by their father to be evil, but Daimon rejected these teachings, while Santana embraced them.
Over time, her powers came to the fore and are very similar to those of a Succubus. She was able to drain the souls of men. When she does this, the victim's soul transforms into an ethereal butterfly, similar to Psylocke's telepathy effect; Santana then consumes its essence by eating it. She also possesses the ability to gain strength through the use of weapons that were used to kill a living being. She used both her magic and sexual wiles to get the victims she needed, and occasionally came into conflict with her brother and other supernatural heroes like Doctor Strange.
This bust of Santana is approximately six inches in height and shows her in her usual latex-like clothing that has been her trademark since her first appearance in the 1970s.
It's a really lovely sculpt of Santana, the detailing is really well done and the paints used to bring her clothing out just nicely provide the sheen you would expect to be on the clothing she would be wearing if she was a real being.
I would however, ask that, perhaps, if this sells well, that they consider a fill body figurine of her as I think it would be just an amazing figurine to add to our collection…
This bust is available for $60 US on pre-orders from Bowen Designs here, and at Comic Book Nation here. The actual release date is for October 2010, more specific than that I cannot say as that information isn't available.
I'd love to order this, but neither the creators, Bowen Designs, or anyone else that I have been in contact with will consider, or allow, shipping out of the United States…
But we'll see if I can work something out somewhere…
Tera